Chief Manuelito
Diné Leader In Dark Times
Chief Manuelito (1818-1893) was a prominent Navajo leader who rallied his people against the oppression of the United States military. Born near Bears Ears, Utah in 1818, he migrated to eastern Arizona, joining Chief Narbona's band in the foothills of the Chuska mountains. He led raiding parties, often joining forces with other Navajo leaders to attack mutual enemies. He quickly proved his merit as a warrior and a leader.

The world he lived in was changing. The process of western expansion brought an influx of settlers from the east, adding pressure to an already contentious battle over scarce resources in the region. By the 1860s, the Navajo were facing pressure on all sides, with Zuni, Ute, Apache, Mexicans, and Americans encroaching on Navajo land. In response, Manuelito and Barboncito joined forces, with 1000 Navajo warriors descending on Fort Defiance on August 30, 1860. They almost overwhelmed the fort's defenses, but, ultimately, they were forced to retreat. Superior numbers succumbed to superior fire power. Furthermore, the ramifications were far reaching. The U.S. Army declared war on the Navajo.
The Long Walk
Major General James H. Carleton was assigned to the New Mexico Territory in the fall of 1862. He planned to round up the Navajo and force them to relocate to a reservation at Bosque Redondo in Fort Sumner, New Mexico. Thousands surrendered voluntarily. U.S. troops, led by Kit Carson, were dispatched in 1863 to round up the reluctant. Initially, Manuelito and others refused to surrender. They fled to strongholds in the Chuska mountains, using guerrilla tactics against U.S. troops. However, the assault by U.S. troops was brutal and sustained. They destroyed all forms of food to starve the hold outs, poisoning wells, burning crops and orchards, killing livestock, wild game, and horses, as well as burning dwellings. By 1866 Manuelito's group had to surrender to avoid starving. They were forced to join their brethren at Bosque Redondo.

Conditions at the reservation were abysmal. Diseases were rampant and there wasn't enough food. The army didn't allow hunting. They didn't want the warriors to have weapons. Though confined, Manuelito continued to fight on behalf of his people. In 1868, he joined a group of Navajo leaders allowed to travel to Washington, D.C. to petition the government for a new reservation. They were successful in negotiating for a new reservation, located in the traditional Navajo homelands.

After Manuelito returned home, he continued to serve as a revered member of his community, including serving as the head of the tribal police. In his later years, he advocated for access to education for Navajo children. "My grandchildren, education is a ladder. Tell our people to take it."

He died of measles complicated by pneumonia in 1893.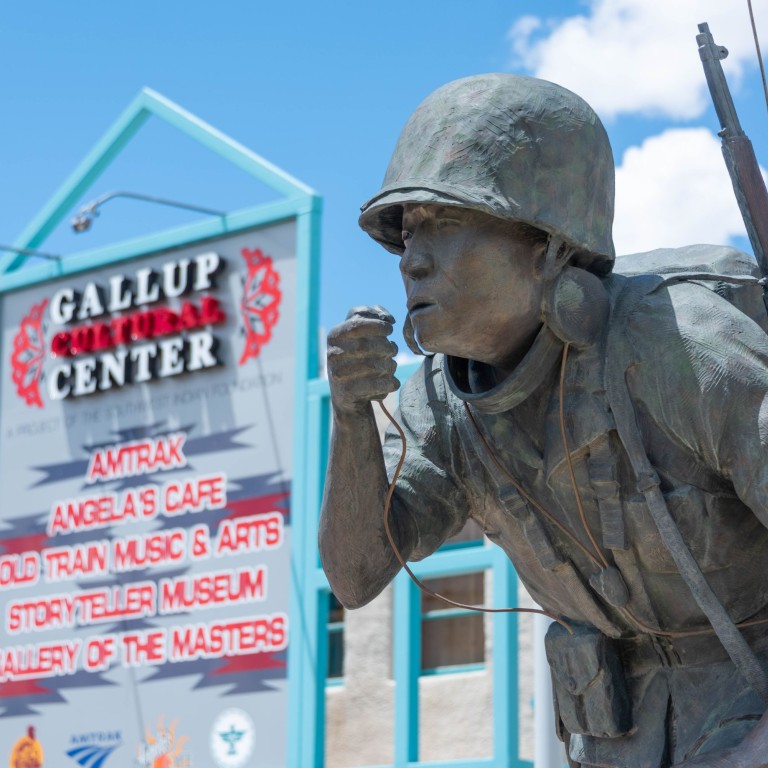 Discover
Gallup Cultural Center201 E Highway 66
Gallup, New Mexico 87301