El Rancho Hotel in Gallup is a Route 66 classic, the embodiment of the Western Ranch House from the classic westerns. At one point, it was the vibe was distinctly "Wild West", with patrons gambling, brawling, and drinking. Erroll Flynn was known for riding his horse into the bar when he wanted a drink. Though guests are more law abiding these days, the spirit of the west can be felt when you walk in the doors.
R.E. "Griff" Griffith, brother of legendary movie director D.W. Griffith, built the property. His brother introduced him to Gallup in the early 1930s. He loved the stark landscapes, with endless vistas defined by mesas and craggy ridgelines. He returned a couple of years later to build the hotel. It opened in 1936, promptly becoming a base for movie productions due to Griff's family connections. The hotel boasted superior service and accommodations. One of the Harvey Hotels was a short distance down Route 66 by the train station. They provided a constant pool of well-trained, experienced employees to pilfer.
Hollywood History
During the 1930s and 1940s over 100 westerns were filmed around Gallup, with Hollywood's most notable stars staying at El Rancho, including the giants of Hollywood's Golden Age: Ronald Reagan, John Wayne, Katherine Hepburn, Lucille Ball, Errol Flynn, Mae West, Kirk Douglas, Gregory Peck, and Humphrey Bogart, etc. The rooms are named based on the most well-known star to have stayed in each room.

Though El Rancho was linked to Hollywood and the movie industry until the mid-1960s, the appeal of westerns waned by 1964 and the hotel gradually fell into disrepair. A well-known Indian trader in the area, Armand Ortega, purchased the hotel and restored it to its former glory. The hotel was listed in the National Register of Historic Places in 1988.
El Rancho Hotel Gallup
1000 E. Highway 66, Gallup, NM 87301
(505) 863-9311
info@elranchohotelgallup.com

The restaurant at the El Rancho Hotel serves mostly American and New Mexican food, like steaks, burgers, enchiladas, fajitas, and tamales. The cantina has local musicians nightly. In addition to its central location in Gallup on the "Mother Road," the hotel is on Trail of the Ancients Byway, one of the designated New Mexico's Scenic Byways.

DIRECTIONS: The El Rancho Hotel is located at 1000 East 66 on the corner of Route 66 and Ford Dr. in Gallup, NM. When approaching from I-40, take exit 22 and turn south onto Ford Drive/Miyamura. The hotel has both overnight accommodations and a restaurant.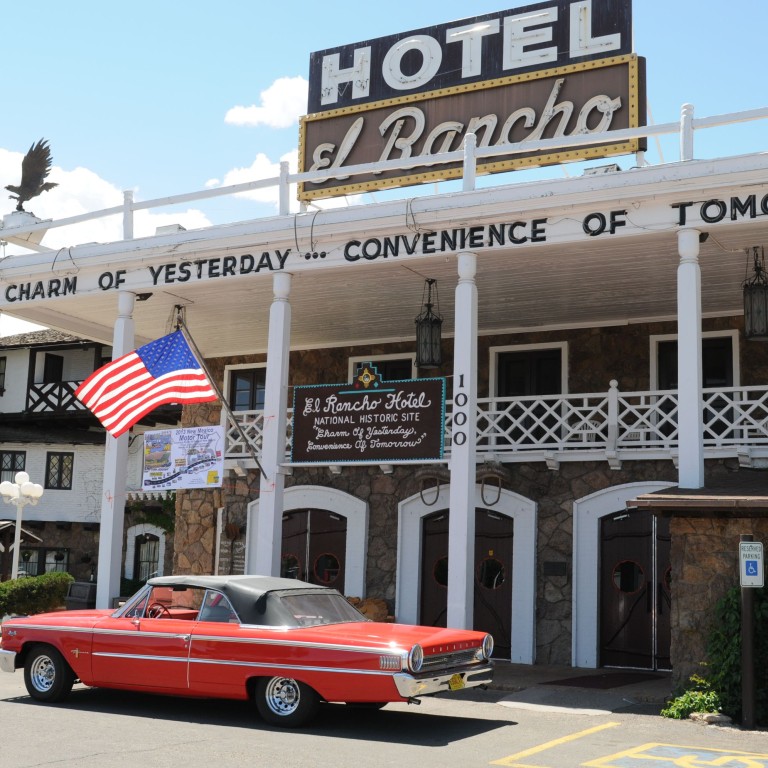 Discover
El Rancho Hotel & Motel1000 E. Highway 66
Gallup, New Mexico 87301