10 Gallup Day Trips
Explore the cultural and natural wonders around Gallup.
Whether your interest is outdoor recreation or ancient cultures, visitors have a wide variety of options in terms of beautiful and interesting day trips around Gallup. If you would like more information, or more options, please contact:
Gallup-McKinley County Chamber of Commerce
106 W. Highway 66 Gallup, NM, 87301
505-722-2228 or 1-800-380-4989
Acoma Sky City – 87.7 miles SE of Gallup
Learn more about Acoma Pueblo at Acoma Sky City, the oldest continuously inhabited settlement in North America. Archaeologists have cite ongoing habitation since the 13th century; however, Acoma oral tradition suggests that the settlement was established in the 11th century, with brick buildings as early as 1144 A.D. The pueblo sits atop a 365-foot mesa, providing an outstanding defensive position to ward off Navajo and Apache raiders.
Sky City Cultural Center & Haak'u Museum
PO Box 310Pueblo of Acoma, NM 87034
(505) 552-7861
Contact Acoma
Bisti Badlands/DeNaZin Wilderness – 105 miles NE of Gallup
The Bisti-De-Na-Zin Wilderness Area in northwestern New Mexico is a stark, alien landscape, punctuated by hoodoos and natural stone windows. The wilderness area encompasses 41,170 acres of rock formations that would seem more natural on Mars than in New Mexico.

The dinosaur fossils found in the badlands are a testament to ancient life in the area and evidence of the rich energy resources that lie beneath the surface. The buried remains of prehistoric forests, plant and animal life created large coal deposits and an oil field, which frequently leads to conflict between those who want to capitalize on the energy reserves and those who want to preserve the natural and cultural treasures.

There are no hiking trails or amenities in the Bisti. Exploration is free-style and it is best to be prepared, because there aren't necessarily many humans around. Take plenty of water and sunscreen. A GPS is handy if you have one.

Bisti/De-Na-Zin Wilderness
County Road 7297, Bloomfield, NM 87413
(505) 564-7600
Bluewater Lake – 47.5 miles SE of Gallup
Bluewater Lake is a 3000-acre state park in the Zuni Mountains near Prewitt, New Mexico. It is popular for fishing and bird watching, with 68 species of birds either living in the park or relying on the park during migration.

Bluewater Lake State Park
30 Bluewater State Park Road
Prewitt, NM 87045
(505) 876-2391
Canyon de Chelly National Monument - 93 miles NW of Gallup
Encompassing 83,840 acres, Canyon de Chelly National Monument protects one of the longest continuously inhabited regions in North America, preserving ruins of the indigenous tribes that occupied the land long before Europeans arrived. Located within the Navajo Nation, it is one of the most visited national monuments in the U.S.

Most visitors view Canyon de Chelly from the rim of the canyon, following North Rim Dr. and South Rim Dr. Ancient ruins and interesting rock formations are readily visible at a distance. Private Navajo-owned companies offer tours of the canyon floor for guests who want more information about the ruins, the geology, or simply want a better view. However, there is no entrance fee to the park.

Canyon de Chelly National Monument
P.O. Box 588
Chinle , AZ 86503
(928) 674-5500
Chaco Culture National Historical Park – 91.7 miles NE of Gallup
Culturally and historically, Chaco Canyon is New Mexico's crown jewel. Chaco Canyon's influence spread across the region over thousands of years of habitation. Despite the inhabitants abandoning the canyon settlements centuries ago, the influence of the Ancestral Puebloans can be seen today in New Mexico's agricultural techniques, artistic traditions, architecture, and cuisine.

Chaco Culture National Historical Park Visitor Center
1808 County Road 7950
Nageezi, NM 87037
(505) 786-7014
El Malpais National Monument - 74 miles SE of Gallup
El Malpais, pronounced el-mal-pie-EES, translates to "the badlands" in Spanish, which is pretty much what the Spanish conquistadors called all treacherous or challenging terrain. The jagged, desolate landscape of El Malais is a volcanologist's playground. A million years of volcanic activity sculpted the landscape. Numerous volcanoes and several lava flows generated the field of lava. The most recent volcanic activity was about 800 years ago.

There are five layers of lava from McCartys Crater, Bandera Crater, Cerro Hoya, El Calderon, and Twin Craters, with a variety of volcanoes and volcanic features represented within the flows. There are also several ice caves in the monument. Check in with the rangers to obtain a free caving permit if you want to hike inside the lava tubes. Otherwise, there are numerous trails to explore.

El Malpais National Monument
NM-53
San Rafael, NM 87051
(505) 783-4226
El Morro National Monument – 55 miles SE of Gallup
El Morro is an oasis on NM-53 in western New Mexico. There is a deep pool of water at the base of the mesa, continuously replenished by snow melt and run off. The pool provides a year-round, reliable source of fresh water in an otherwise arid environment. Encompassing 2 square miles, El Morro is one of New Mexico's smallest, and most peculiar, national monuments. The monument was established in 1906 to preserve the inscriptions and petroglyphs lining the base of the cliff, as well as the partially excavated pueblo village on top of the mesa. The inhabitants of this village were the ancestors of the Zuni. The Zuni call the place A'ts'ina, meaning "place of writings on the rock."

El Morro National Monument
NM-53
Ramah, NM 87321
(505) 783-4226
Historic Hubbell Trading Post: 55 miles NW of Gallup
The Hubbell Trading Post is the oldest continuously operating trading post in the American Southwest. It has been the best place to buy high-quality Navajo rugs and jewelry since 1878 when John Hubbel established the trading post. It had been 10 years since the Navajo were allowed to return to the area after The Long Walk. They were still reeling economically from the trauma of being relocated. Trade, which had always been part of their culture, became vital to survival. Generations of the Hubbell family operated the trading post until it was sold to the National Park Service in 1967. It is still active, currently operated by the non-profit Western National Parks Association.

Hubbell Trading Post
1/2 Mile W, Hwy. 191
Ganado, AZ 86505
(928) 755-3254
Shiprock - 93 miles NW of Gallup
Visible from 50 miles away on a clear day, Shiprock is the throat of an ancient volcano, with a peak 7,178-feet above sea level. The iconic volcanic formation is part of the Chuska volcanic field. Geologists believe the crater of Ship Rock formed about 3,000 feet below the earth's surface approximately 27 million years ago when lava solidified inside the feeder conduit of a large, ancient volcano. What we see today is literally the root system of that volcano, slowly revealed over millions of years as wind and water eroded the softer sandstone, mudstone, and shale surrounding the central vent and vertical dikes.

Directions: From Farmington, NM: It is about 41 miles. Take US 64 west to Shiprock and bear left at the intersection with US 491. Continue 7.1 miles on US 64, 491 and turn right (west) onto the paved Indian Service Route 13. Give yourself about an hour if you are timing the trip for photography and lighting.

From the Four Corners Monument: Takes about 50 minutes. Take US 160 south to the intersection with US 64 in Arizona. Head east into New Mexico and you will see Shiprock south of the interstate.
Zuni Pueblo – 38 miles SW of Gallup
Zuni Pueblo is the largest of the nineteen New Mexican Pueblos. It covers more than 700 square miles and has a population of over 10,000. Zuni Pueblo is considered the most traditional of all the New Mexico Pueblos, with a unique language, culture, and history, due in part to geographic isolation. The Zuni Visitor Center offers a slate of unique, immersive tours ranging from a 1 hour orientation to a 2-day adventure exploring six of the seven "Cities of Cibola."

Zuni Pueblo
1231-1245, NM-53
Zuni, NM 87327
(505) 782-7238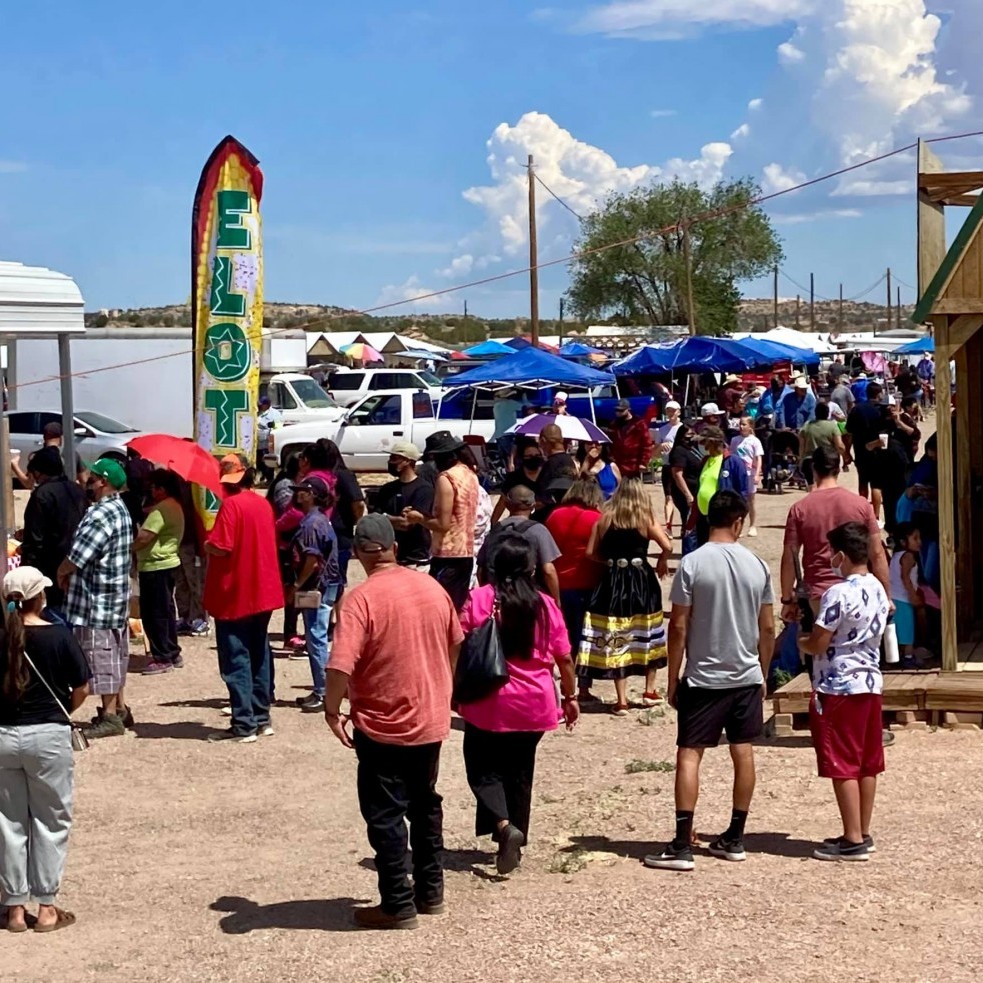 December 2
Gallup 9th Street Flea Market 340 N 9th Street Gallup, New Mexico (505) 399-2166
Discover
Gallup 9th Street Flea Market340 N 9th Street
Gallup, New Mexico